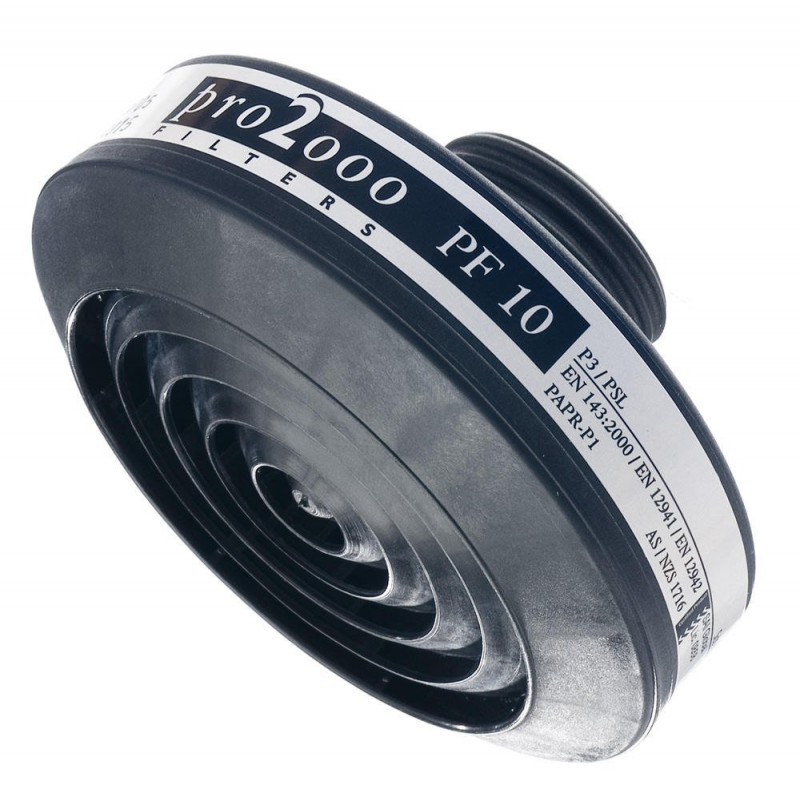  
P3 filter for panoramic mask
P3 filter for panoramic mask. Choosing a filter in adequacy with the pollutant inhaled is one of the most complete means of protecting the respiratory system. asbestos
---
---
P3 filter for panoramic mask to protect the respiratory system. 
Characteristics: 
- Filter body material: Reinforced polypropylene
- Plastic is completely recyclable
- The plastic filter can be used in work environments near a heat zone (near an oven or in direct sunlight), less conductive than aluminum.
- The box includes a sealed carbon support grid in reinforced polypropylene.
- The case is non-deformable. If a cartridge falls, either the cartridge breaks completely and it must therefore be replaced, or there is no effect on the cartridge and therefore on the carbon bed. This advantage provides additional safety in the use of plastic filter.
- The thread of the fitting conforms to EN 148. The DIN 40 thread, molded from glass fiber reinforced polypropylene, is strictly identical to the molding tool, which guarantees a perfect assembly with the mask or the 'respiratory.
- The connection is sealed against leaks, ensuring high reliability.
- The inlet is wide to provide low resistance to breathing.
- The orifice is completely covered with a safety grille / ribs to protect the particulate and gas filters and prevent them from tearing or other damage.
- Made up of a filter media made of glass fiber paper.
- The particulate filter is pleated by a computerized pleating machine specially designed for the manufacture of these filters.
- The structure offers a large filtration surface with filtering capacity, for filtration of a considerable quantity of particles.
- High capacity filter element stopping even the finest particles and providing filtration of 99.999% (at 95 l / min)
Data sheet
Masque jetable

Cartridges & filters
You might also like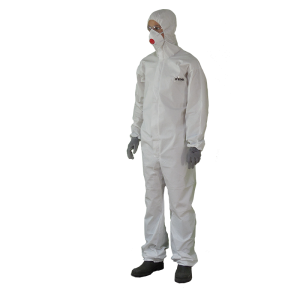 ---
Disposable chemical coveralls for protection when handling, splashing and spraying chemicals.   Size: M...