Products for treat termite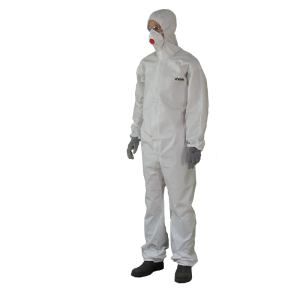 ---
Disposable coverall for excellent protection against dust in harsh and very dusty environments. Size: XXL...
Regular price
€149.00
-15%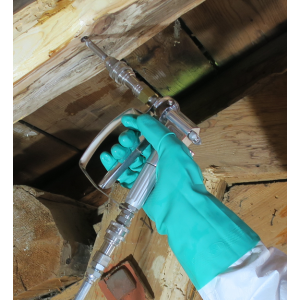 ---
Reinforced nitrile glove with large cuff for protection against chemicals.  Top of the range, they will provide you with...
---
Handling gloves recommended for fine handling in dry or slightly greasy and messy environments.  asbestos Total length:...
Information for treat termite
This stage's aim is to see the extent of the damages and reach the sound wood.
It has to be done with a manual scraper. For painted woods, you have to use an abrasive disk.
Without doing this stage, sprayed termiticide products would stay on the wood's exterior surface and not penetrate it.
Then the scrapped parts have to be cleaned with a metallic brush to eliminate the dust.
Drill 3 to 5 holes per meter with a Wood Auger bit, in a horizontal line or in staggered
rows depending on the wood section. 2/3 of the beam thickness is the depth to respect.
For very large sections of wood (> 20/20 cm), the holes are made on the two opposite sides of the wood pieces.
Drill into the beam ends and joists to deliver chemical in the timber inside the mansonry.
The aim is to stop the termite progress into the timber and eliminate termites which cannot be reached by a surface treatment.
The Mabi injectors prevent chemical backflow to enhance the spreading of the termiticide inside timber and kill the termite colony.
Finally, adapt a spray nozzle to your gun to spray the wood preservative chemical over all wooden surfaces between 20 and 40 BAR.
You will destroy all termites surrounding and get lasting protection against future attacks of wood destroying organisms.
Combine this approved method with a termiticide / insecticide, for example Corpol (Quimunsa), Xilix 3000P (Adkalis) or any other brand labelled for this pest in your country.
Increase the efficiency of your termite treatments and your safety with MABI injectors, a backflow-prevention system. Save your property from destructive termites.