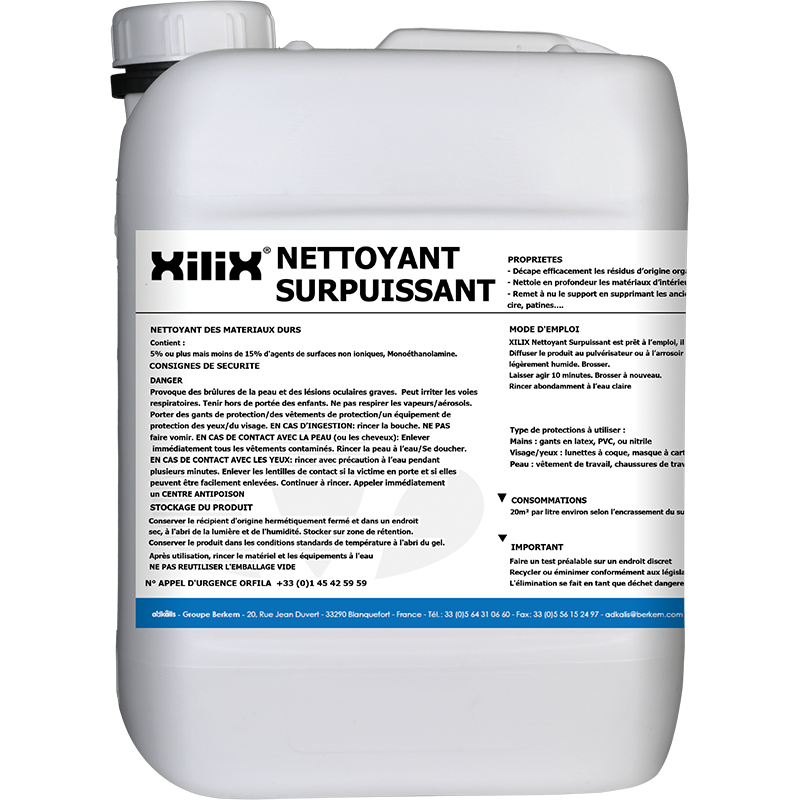  
XILIX Powerful Cleaner
Powerful Cleaner
Ready to use
---
---
XILIX Powerful cleaner. 
Efficiency characteristics:
- Effectively removes organic residues from roofs, facades and materials.
- Thoroughly cleans interior or exterior materials
- Exposed the support by removing old protective films such as paint, wax, patina, etc.
- XILIX Super Powerful Cleaner meets the NF 438 standard establishing the efficiency criteria for the national NF ecological label
Environment dedicated to cleaning products.
Application Treatment Methodology:
- Watering can or sprayer
- Brush
XILIX Super Power Cleaner is ready to use, it does not require any preparation.
Apply the product with a sprayer or watering can over the entire slightly damp surface. Brush. Leave on for 10 minutes. Brush again. Rinse thoroughly with clean water.
The use of a high pressure washer when rinsing facilitates rinsing and help blasting dirt free.
Application on wooden decks is possible as long as the pH of the wood is brought back to neutral pH as soon as possible after application of the product, by rinsing thoroughly with clear water.